Meet your Northland Māori Hosts
Kia ora! Welcome! Let us introduce your hosts, Mervyn and Rangimarie Harding.
"We are indigneous people of Aotearoa New Zealand, born and bred in the tribal areas of Te Taitokerau Northland, the top of Aotearoa, New Zealand. We absolutely love meeting and hosting guests from around the world and sharing our world, Te Ao Māori.
Our culture is steeped in knowledge and tradition, and we feel blessed and honoured to share a personal insight into our lives with you and show you Mātauranga Māori, the knowledge that originates from our ancestors, including the Māori world view and perspectives, creativity and Northland Māori culture."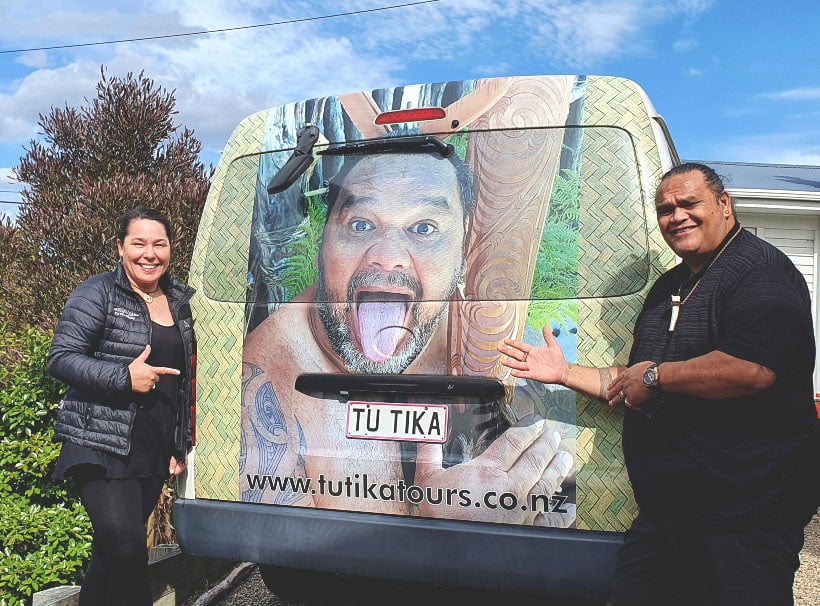 You may know the indigenous people of New Zealand as the Māori, but here in Aotearoa we say tangata whenua – the people of the land. When you book an experience with Tu Tika Tours and Transfers, you are supporting a small indigenous family tourism business.
Mervyn (Merv) and Rangimarie started Tu Tika Tours in 2017. Their five children, Rangimarie, Stella, Anahera, Rakena, and Manuao are the inspiration behind the business.
Being tika/true is at the heart of Tu Tika Tours and Transfers. Tu Tika literally means, Tu – to stand, and Tika – to be true. Therefore, Merv and Rangimarie stand true to everything they share with you.
They stand true to their culture and the stories they tell. It's the whole truth and nothing but. To have honest conversations about the past and present, and putting their whole heart into their pakihi (work) is a tribute to their iwi and ancestors.
The koru (spiral) in the brand represents new growth in their whanau (family) and the seven waves on each side of the koru represent Merv and Rangimarie and their five children, riding the wave of this journey we call life. The family's core values are based on manaakitanga – Holding guests in the highest regard, with the utmost respect, humility and kindness.
"Our purpose is to provide visitors from around the world with a truly authentic connection to us and our home by promoting whakawhanaungatanga – building ever lasting relationships through shared experiences."
Deepen your connection with Aotearoa, book a tour of Whangārei and see it from a Māori perspective.